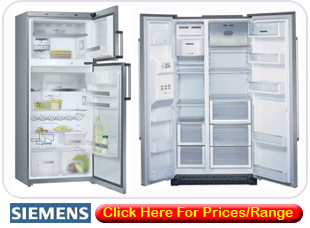 Siemens Fridge Freezers
Every SIEMENS fridge freezer appliance is carefully created to the exacting standard that our customers require. There is no compromise, no cutting corners, owning a SIEMENS appliance brings confidence and style to your home life.

We draw on many years of manufacturing experience and our relationship with customers to design fridge freezers that meet your needs. Extensive research and testing of every part brings you a level of reassurance that will last for many years.

In the kitchen, we have over a century of experience in bringing you reliable, cleverly designed and quietly efficient products.

All our products are developed only after exhaustive research and testing. SIEMENS products are designed for life.

A uniquely interactive called totalKitchen Management - ensures that we meet your needs, from user needs to excellent after sales service.

The design of our products is inspired by how they function. Resulting in a perfect balance between dazzling design and technology that benefits you.