RSH1DBBP Samsung Fridge Freezer - Compare Prices


---
Show All Samsung Range | Show All UK Manufacturers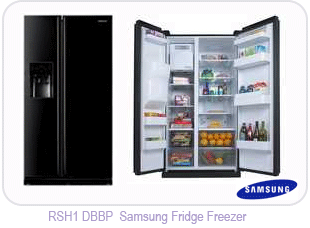 RSH1DBBP Samsung Fridge Freezer
Samsung RSH1DBBP BLACK 18.7 cu ft Frost Free Fridge Freezers.

Capacity - 531 Litres
Energy Rating - A
Chilled Water & Ice Dispenser - Yes
Temperature Control - Twin thermostat
Dimensions - H:1775mm W:912mm D:672mm
Twin cooling
External controls
Safety glass shelves

The Samsung RSH1DBBP American Style fridge freezer combines a sleek understated design with great functionality and clever technology from Samsung.

Featuring Samsung's Twin Cooling™ system, the freezer and fridge compartments have their own evaporator ensuring a humidity level of 43% for the fridge. This is great for prolonging the shelf life of your food while retaining flavour.

The Samsung RSH1DBBP also sports a Tall Water and Ice Dispenser providing continuous filtered water, crushed or cubed ice and even accommodates pitchers. The digital display allows for ease of use and looks great too. The fridge has a capacity of 12.3 cu ft while the freezer can accommodate a capacity of 6.32 cu ft.

Samsung has equipped the RSH1DBBP with LED tower lighting for the fridge saves space and gives brilliant illumination while big box storage in the freezer allows for easier access to frozen meat and poultry.

Anti-bacterial protection comes as standard as it is built in to the fridge liners, eliminating bacteria, prevents the build up of mould and provides a safe and hygienic environment for your food.

The Samsung RSH1DBBP is rated 'A' for energy efficiency and will make a great eye-catching addition to any household. It's a great fridge freezer that offers innovative features and great value.
---
Adjustable Shelving YES For complete flexible storage
Annual Energy Consumption 520 kwh/year This indicates the power or electrical consumption of the appliance. The lower the figure the less electricity it uses.

Auto Defrost Fridge YES This automatically regulates the temperature in your fridge to prevent frost build up.

Bottle Retainer NO Storage space in the fridge door for all types of bottles.

Chilled Drinks/Water Dispenser YES Gives you cold water and ice on tap.

Clear drawer fronts YES Allows you to see the contents of the freezer.

Colour BLACK
Depth 672 mm
Door Cooling NO.

Egg Rack YES A special rack in the fridge door designed for safe storage of eggs.

Energy Rating A An alphabetical classification going from "A" to "G" - An "A-Grade" Energy Efficient machine will save you money by using less electricity and water.

External Controls YES Allows for easy temperature adjustment of the fridge and/or freezer compartments.

Fast Freeze YES Freezes food much quicker, preserving more of the taste and texture
Flat back design YES The cooling grate at the back is hidden behind an exterior wall of the appliance
Freezer Capacity CUFT 6.32 cuft The internal storage capacity of the fridge section of the appliance
Freezer capacity Ltr 179 litres
Freezing Capacity 10 kg/24 hours Indicates how quickly it freezes fresh food
Fridge Capacity CUFT 12.3 cuft The internal storage capacity of the fridge section of the appliance
Fridge capacity Ltr 352 litres The internal storage capacity of the fridge section of the appliance
Fridge position Top
Frost Free YES You will never have to worry about defrosting your freezer again - Frost free also keeps food separated e.g. you can remove one piece of bread at a time from a frozen sliced loaf.
Height 1775 mm
No of Salad Crispers 1 Ideal for keeping salads and vegetables fresher for longer and separate from other food stuffs such as meat
No of shelves in Fridge 5 Indicates the number of shelves in the fridge - the more there are the greater the storage flexibility
Noise Level 41 dba The lower the value the quieter the appliance
Power failure safe storage 7.5 hours
Reversible doors NO For your own personal preference and convenient access - Left or right hand opening
Safety Glass Shelves YES As well as being more versatile they only require a quick wipe over with a damp cloth to keep them clean, great if you have a spillage as the shelves hold the liquid in for clean up later.
Temperature warning light YES A visual warning that a safe low temperature cannot be maintained - action can be taken to save your food before it defrosts and becomes wasted
Total Capacity Litres 531 litres The total internal storage capacity of the appliance - If you shop regularly, and only use the freezer compartment for storing things like frozen vegetables go for a larger fridge area
Total Capacity cuft 18.7 cuft The total internal storage capacity of the appliance - If you shop regularly, and only use the freezer compartment for storing things like frozen vegetables go for a larger fridge area
Twin Thermostat YES You can control the fridge and freezer separately
Width 912 mm
Samsung Fridge Freezers