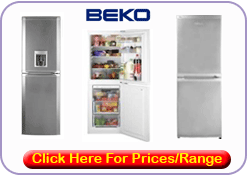 Beko Fridge Freezers
All Beko products, including the acclaimed Beko fridge freezers, are manufactured in state of the art production facilities that are approved to the ISO 9001 quality systems as well as the latest European and International safety and environmental standards. Each product type is produced in its own dedicated facility using some of the most developed production techniques and equipment in the world.

Research and development is seen as vital and is therefore given high priority. Research and development operates out of a dedicated 10,000sqm facility, which is home to a dedicated team of scientists, and engineers devoted to the development of high quality, reliable, stylish, efficient and environmental friendly products.

Product Overview - The Beko Product portfolio covers the following product areas

- Refrigeration: Fridges with icebox, Larders, Upright Freezers, Side by Side Fridge Freezers, Conventional and Frost Free Fridge Freezers with A rated energy efficient models including Integrated Fridge Freezers

- Colour Televisions: 15" - 30" LCD and 14" - 32" CRT, 42" Plasma models featuring Remote control, Teletext, Nicam Digital Stereo, Virtual Dolby, Dolby Pro-Logic with widescreen options for 24" models and above.

- Free Standing Cookers in both Gas and Electric versions.

- Built-in Cookers and Hobs

- Washing Machines ranging from 1000 – 1600rpm with A+ rated models.

- Free Standing and Integrated Dishwashers in Full size and Slimline versions with AAA models.